Ace Loan Review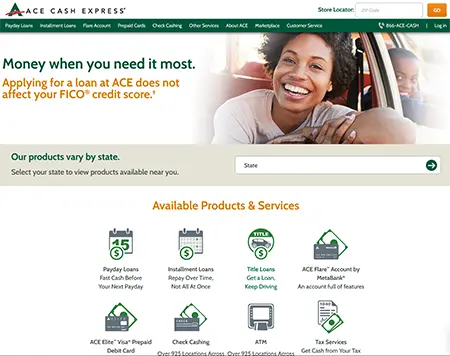 Ace Loan (ACE Cash Express, Inc.) is another one of the big online payday lenders. As you would expect from such a big company, they are a licensed lender which means that your application will be handled according to the laws put in place by the state that you apply in. Ace Loan is also a member of the Online Lenders Alliance. This is a company that has been formed to help regulate the payday loan industry. They provide a code of conduct that payday lenders should adhere to and seeing Ace Loan as a member of the Online Lenders Alliance is a positive thing.
The Application Process
Unfortunately, the application process for an Ace Loan is not as simple as it is for many other lenders. This is mainly due to the design of their website. Although the website is professional and business like, it is not very easy to use and can sometimes be difficult to find what you are looking for. The application form itself is not laid out as clearly as some of its competitors and can be confusing. As the vast majority of people want an online payday loan, they could be missing out on many customers by not having a perfectly optimized application process.
Another gripe with the application form is that it is laid out over 4 separate pages. Although each page is short, it is annoying having to go through so many, with no idea how big each page is. We much prefer 1-page application forms as they are faster and more user-friendly.
It is also difficult to find information on how fast you will receive your money!
Rates
The rates of your loan vary from state to state but as Ace Loan is a regulated payday lender you know that their fees will be fair.
Help and Support
There is ample help and support on the website with an interactive FAQ tool, online chat, and email available. There is also a phone number on the website and loan advisors are available. This is a very good support system.
Do you Qualify?
The qualification criteria are the same as they are for other lenders. The main factors are that you must have an active bank account, the must be employed and you must be over 18.
Summary
Ace Loan is a good payday lender and we recommend that you try them out if you need a loan but the lack of information and the application process on their website is frustrating. It is easier to apply with other lenders such as Simple Fast Loans.
Contact information
Location of This Business
300 E. John Carpenter Fwy, Ste. 900 Irving, TX 75062
Tel:(866) 355-6815
Email:InternetOps@acecashexpress.com
website:acecashexpress.com