Loan at Last Review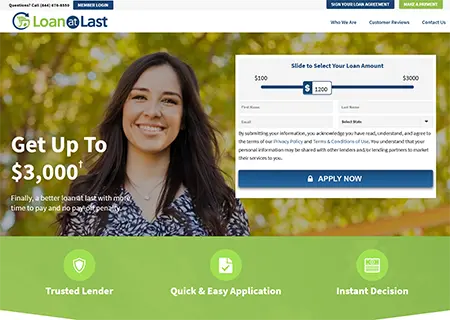 Loan at Last is a direct payday lender and has been around for a few years now and they have become very popular due to their open, friendly service. They are honest and upfront- a very good attribute of any kind of payday loan company.
The Application Process
The Loan at Last website is very bright and colorful which compliments their friendly image. The site is very clear and easy to use with a very well-laid out and clearly labeled application form. This is one of the best application screens we have seen for any payday loan application. There is also reassuring 128-bit encryption for the application page so you know that Loan at Last takes your security seriously.
Rates
Loan at Last offers some of the best rates in the industry- just $15 per $100 borrowed.
Help and Support
Loan at Last offer good help and support with email and telephone help available. It would be nice if they offered live chat as well but unfortunately, they do not currently offer this.
Do you Qualify?
It is easy to qualify for the Loan at Last payday loan. Bad credit histories are generally not a problem and as long as you can show that you have a steady paycheck coming in then you should have no problems getting approved.
Summary
We really like Loan at Last is a friendly approach to payday loans. They have proven themselves to be a dependable payday loan lender but they are still not as good as AmeriCash Loans.
Contact information
Location of This Business
Niizhwaaswi, LLC dba Loan at Last PO BOX 1193 Lac Du Flambeau, WI 54538
Tel:(844) 676-8550
website:loanatlast.com